Assigning your Organization's Owners
An Organization must have at least one Owner assigned. The Owner has full control over the Organization and all Brandfolders contained within. It is highly recommended that you create more than one Owner for your Organization. 

Promoting New Owners

Only Owners can promote other users to an Owner. The following steps outline how to create additional Owners for your Organization.

1.  From the Organization landing page, select the gear icon for the Organization and then select Manage Users.




2.  Enter the email address and an optional personal message for any user you want to add as an Owner.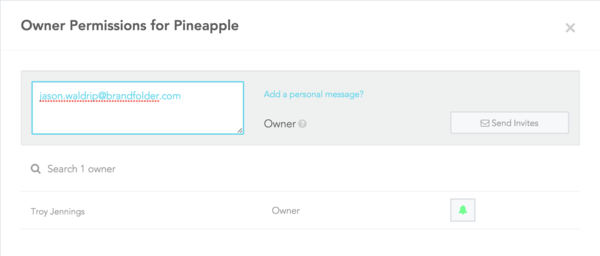 4.  Select Send Invites. The user(s) will receive an email confirming their promotion to an Owner. 

Demoting Ownership

If you find yourself or other users an Owner and need to transfer all that power, have no fear: the following steps will help you. Important: Ensure that you have followed the steps from the Promoting New Owners section above before removing Owner users.



1.  From the Organization's landing page, select the gear icon for the Organization.





2.  Select 

Manage Users

.

3.  For the Owner being demoted, select Remove Owner.

If the user being demoted was promoted to an Owner from another user type, that user will go back to their previous permissions level. If the user was initially established as an Owner (i.e. not promoted) then you will need to assign that user with the necessary permissions to function in their role.